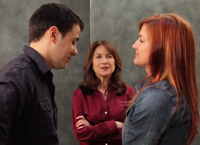 25 years as one of LA's top acting coaches developing and training actors, Kimberly Jentzen masterfully directs actors in strengthening their presence, energy, fearlessness and creative courage.
Within you is a light that is the "essence" of who are and embodies your spirit and creative expression.
There is an inner light within each of you, a fire that blazes inside and gives you your voice and original perceptions of the world. It embodies a spirit that desires to press beyond its sense of self-limitation to a fuller sense of freedom of artistic expression.
As actors, far too often this energy is suppressed, hidden or kept locked inside. This is the barrier that prevents you from tapping into your artistic development. And you wonder, why you aren't inspired or able to find the passion to keep going or make a difference in your work?
The Essence Course is designed to awaken the fire that lays dormant. It's designed to effect breakthroughs in the work. And it's objective is to bring about an awakening that will you as an actor to grow exponentially. The Essence pushes each actor past fear and into an experience of depth and discovery.
THE ESSENCE COURSE
Passage 1 – "The 16 Primal Journey's"
Everyone has had an event that set them on a journey.
Passage 2 – "Essence Work"
Passage 3 – "Integration: Moving from knowledge to power"
Tap into deep level emotion
Exercises in trust, perception, depth, self-expression and the ability to access emotion for the purpose of uncovering and/or rediscovering lost parts of themselves are some of the epiphanies from past Intensives.
Heighten attributes
Participants have shared wonderful discoveries and a multitude of rich qualities after the past Essence Intensives including: heightened magnetism, strength, mystery, depth, humor, confidence, sensuality, sex appeal, and a new commitment to being an artist
The Essence will change your art and your life as you push your limits,
overcome barriers and release your fears.
"All artistic efforts start with one single thought… " Kimberly Jentzen
I'd like to know more, and interview for this course: Click here
I've already interviewed: Click here to enroll/submit payment